Jason Christopher: In The Blink of an Eye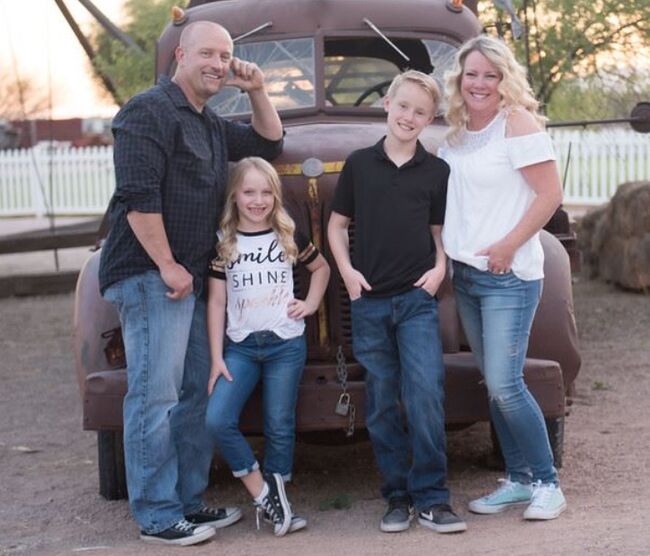 It's amazing how fast life can change. Think for a minute about everyone you love and everything you hold dear. Then imagine that 90 days from right now, it's gone. All of it. Forever.
Three months ago our friend and coworker Jason Christopher was living a busy, happy, "normal" life." He and wife Kerri along with their kids, 11 year old Jake and 9 year old Kenzie, were planning another typical summer filled with lot's of family fun. That was late June. Then everything changed.
Jason, in his late 40's and a picture of excellent health, felt a "twinge" in his shoulder- like a pinched nerve. The nagging pain drove him to his doctor, who ultimately said he was fine. But Jason's wife knew he wasn't. Kerri tried to convince each new specialist that something else was wrong. Finally, a CT scan proved her right. It wasn't just a brain tumor. It was Stage 4 Glioblastoma, the same deadly cancer Senator John McCain has been diagnosed with.
Our strong and mighty friend battled valiantly. There was surgery and chemotherapy. There were prayers and a lots and lots of love. There was hope.
Last Saturday, just three months removed from his normal, happy life, Jason Christopher passed away in Gilbert.
We grieve the loss of a good friend and coworker. But our sadness can't compare to the hurt felt by those he loved most. In a Facebook post about Jason's passing, Kerri described their 13 and half years of marriage, as a "true love story."
"The love and happiness he has given me is something I will hold on to forever. Most importantly, he gave me two of the most wonderful kids I could ever ask for.
He really loved to spoil his family, we meant everything to him! He enjoyed working out, family dinners and shooting guns . We enjoyed day dates to lunch, movies or couples massages. After school, he would help the kids with homework, play video games with
Jake, board games with Kenzi, soccer practice in the park or a family bike ride.
I am completely heartbroken that the Man of my dreams and keeper of my heart is no longer with us! Things will never be the same for ANY of us but the WORLD is a better place because of Jason Christopher Tillwach! "
Jason and Kerri worked hard to care for their family. In addition to Jason's on air career, the couple built a thriving Wedding DJ/Event Planning business. It's bad enough that a good man and loving father and husband was taken far too soon from a family that loved and needed him. But the financial devastation from such an unforeseen life storm seems unusually cruel and unfair.
Events of the past few months have left many of us hurting and in need; Hurricanes, wildfires, the terrible shootings in Las Vegas. The best in us rises up in reaction to the worst of times. I'm asking any and all of you to rally around one of our own.
If you've ever been stuck in Valley traffic. If you've ever listened to an iHeartradio station. If you've ever done the Boot Scootin' Boogie at Graham's, Mr Lucky's, Pony Express, Rockin' Rodeo or Handlebar J. If you were ever named the KNIX Teacher of the Week. If you ever had a red white and blue guitar sticker on your bumper. If you can look at your spouse and your kids today and tell them how much you love them, I ask that you honor Jason's life with whatever you can donate to his family's GoFundMe page.
If Jason were here I know he would say: Cherish your life, your wife, your kids and every moment of every day. Everything can change in an instant.
On behalf of our iHeart Phoenix family, including Beth and Friends, JohnJay and Rich, Mathew Blades, Mike Broomhead, Extra Sports, MountainMan Jay and Tim Ben and Brooke on 102.5 KNIX, we send our deepest condolences and prayers to Kerri, Jake and Kenzie and all the fiends and family of Jason Christopher Tillwach.
https://www.gofundme.com/Jasonchristophertillwach
Stay tuned for a very special tribute and fundraiser that is in the works from Jason's iHeartRadio family.
Sincerely,
Tim Hattrick
Tim Ben and Brooke in the Morning
102.5 KNIX

Tim Ben & Brooke
Want to know more about Tim Ben & Brooke? Get their official bio, social pages & articles on 102.5 KNIX!