Here Is Everything You Need To Know About Country Thunder 2019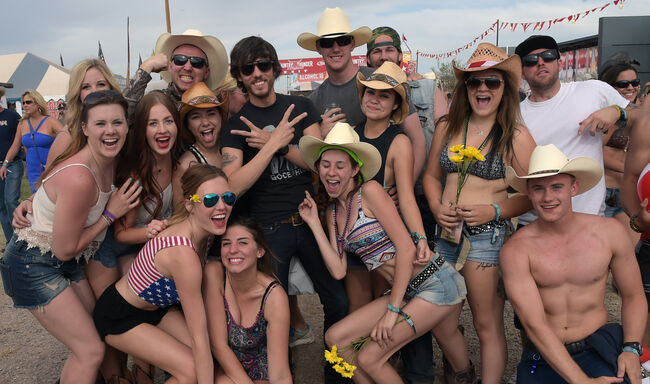 Heading to Florence, AZ for a weekend of country music? Here is everything you need to know in regards to festival hours, parking and more!
Festival Hours:
The front gate and will call open at 9am daily, on Wednesday, April 10th through Sunday, April 14th. The front gate will close at 10pm daily. Please note, you will not be able to enter the campgrounds after the gate is closed. The gate to leave the campgrounds is always open!
The festival bowl will open at the following times:
2:30 pm on Thursday, April 11th
12:00 pm Friday-Sunday, April 12-14th
The festival bowl will close at 2:00 am each night
Parking:
If you're parking on your campsite, you'll need an extra vehicle parking pass.for more information. If you're driving and not staying overnight, you'll need to purchase a day pass; we have single day and weekend day passes available. If you're not parking on a campsite, but you are parking overnight, you'll need to purchase a weekend reserved or weekend overnight parking pass.
What Is Allowed In Country Thunder:
Hats
Sun Block - We highly recommend bringing this!
Lighters - Smoking allowed in designated areas.
Sunglasses
Beach Towel
Blanket - Subject to search.
One Unopened Bottle of Water - Limit one bottle per person.
Fanny Packs
Digital Cameras (non-professional)
Disposable Cameras
Film Cameras (non-professional)
Soft Lawn chairs - Please remove from the bag so both items can be searched.
Strollers – Subject to search.
Country Thunder recommends bringing small umbrella strollers instead of the large strollers with multiple pockets.
Cell Phones
Prescription medication is allowed in the original prescription bottle.
Any guests attempting to bring in prescription medication must have photo identification card that matches the name printed on the prescription. The pills in the bottle must also match the medication/description printed on the prescription.
"Over-the-Counter" Medications are allowed in – Provided they are new and are in the original, factory-sealed container.
Required Medical Equipment - Wheelchairs, oxygen bottles etc.
We encourage anybody with additional medical equipment to visit the medical building for assistance.
All items and patrons are subject to additional inspection prior to entering the venue.
What Is NOT Allowed In Country Thunder:
Glass Containers
Umbrellas
Chairs with Canopies
Outside Food & Beverages
Drones, Unmanned Aircraft Devices & Remote Controlled Vehicles
Alcoholic Beverages & Illegal Substances
Animals - With the exception of service animals for guests with disabilities
Bags – Click here to view ourBag Policy
Bottles, Cans, Thermoses & Other Beverage Containers
Cameras with Lenses Longer than six (6) inches
Fireworks
Laptop Computers
Radios
Laser Pointer Devices
Noisemakers
Promotional/Advertising or Sale Materials not approved by Country Thunder
Seat Cushions larger than 15 inches x 15 inches or that contain armrests, zippers, pockets, flaps or metal backs - Subject to search.
Selfie sticks, sticks or poles
Video cameras
Monopods and Tripods
Weapons - Knives, box-cutters, firearms, etc.